The importance of early diagnosis
Robust methods for early-stage diagnosis are lacking
At least two-thirds of patients with ovarian cancer are diagnosed in stage III-IV2
Vague symptoms and difficult to diagnose at early stage
CA-125 and transvaginal ultrasound used for diagnosis not robust in early stage
Late diagnosis usually results in costly and complicate surgeries and associated patient suffering
Total societal cost in Sweden estimated to SEK 824 million***
Screening not justifiable with today's methods
*Cancer Research UK
**Berek et al (2018) Cancer of the ovary, fallopian tube, and peritoneum
***Whereof 230 MSEK related to healthcare, 55 MSEK related to sick leave or early retirement & 539 MSEK related to productivity losses (NordIQ, 2020)
Early stage detection
The technology indicates detection in phase I-IV cancers.
Easy to use
No additional reagents and extensive training required. The test takes less than 10 minutes.
High precision*
High sensitivity and specificity compared to conventional methods.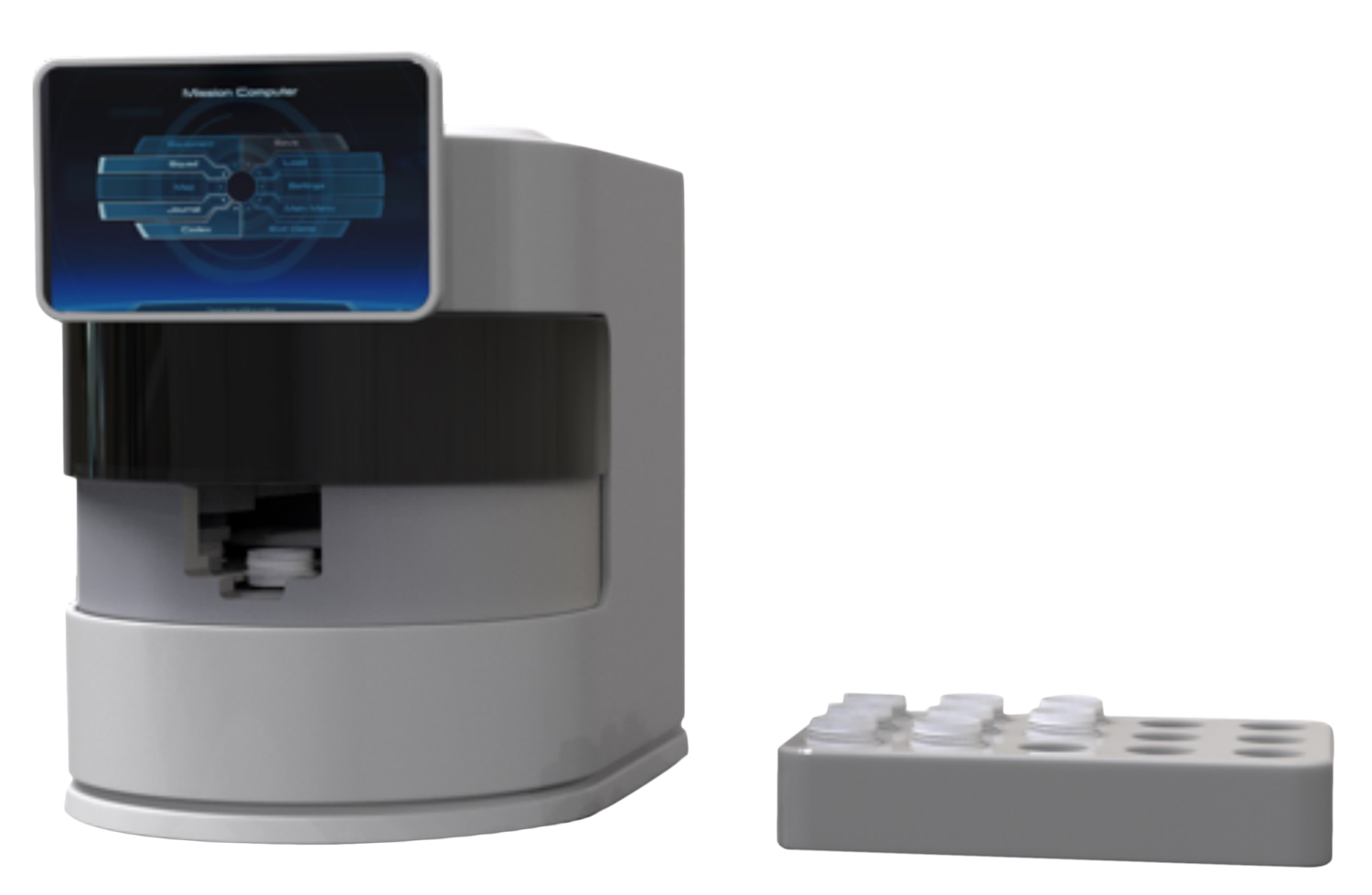 Concept drawing of VOC Diagnostics instrument for ovarian cancer detection detection (targeted to be launched on the market early 2026).

* First results were published 2018 from analysis of 165 blood plasma samples, of which 97 were from patients with ovarian carcinoma and 68 from healthy controls, were first calculated externally by a medical statistician, as described above. The area under the ROC curve was 0.9744, and the 95% CI was 0.9559-0.9929 (DeLong). With the threshold at 0.52, the sensitivity was 92%, and the specificity was 93% . After further development 2022, 96,2% sensitivity and 88,5% specificity was achieved based on 102 samples (79 ovarian cancer).
VOC Diagnostics' instrument has the ability to detect specific cancers from blood samples. Blood plasma headspace is measured and classified by an algorithm derived from a chemometric model trained on sensor data from cancer- and negative control samples. Within 10 minutes, an easy-to-read result is reported.
The instrument and analysis method has shown unprecedented performance in detecting ovarian cancer. There is currently no test available for screening or diagnostic testing of this disease, which therefore is often detected in a late stage, resulting in a poor prognosis. Our approach correctly detects ovarian cancer, ranging from borderline to stage IV, with a sensitivity of 96 – 98% and a specificity of 81 – 89%.

The sensitivity is so high that, in addition to being used for regular diagnostics in health care, the product may constitute a healthy, economically feasible means of population screening to detect cancer during its earliest stages.
The electronic nose was developed in order to mimic human olfaction: i.e., an odor is perceived as a fingerprint. The instrument consists of head space sampling, a chemical sensor array, and pattern recognition modules, to generate signal patterns that are used for classifying odors.
Electronic noses include three major parts: a sample delivery system, a detection system, a computing system.
The sample delivery system enables the generation of the headspace (volatile compounds) of a sample, which is injected into the detection system of the electronic nose. The sample delivery system is essential to guarantee constant operating conditions.
The detection system, which consists of a sensor set, is the "reactive" part of the instrument. When in contact with volatile compounds, the sensors react, which means they experience a change of electrical properties, i.e., a change in conductivity.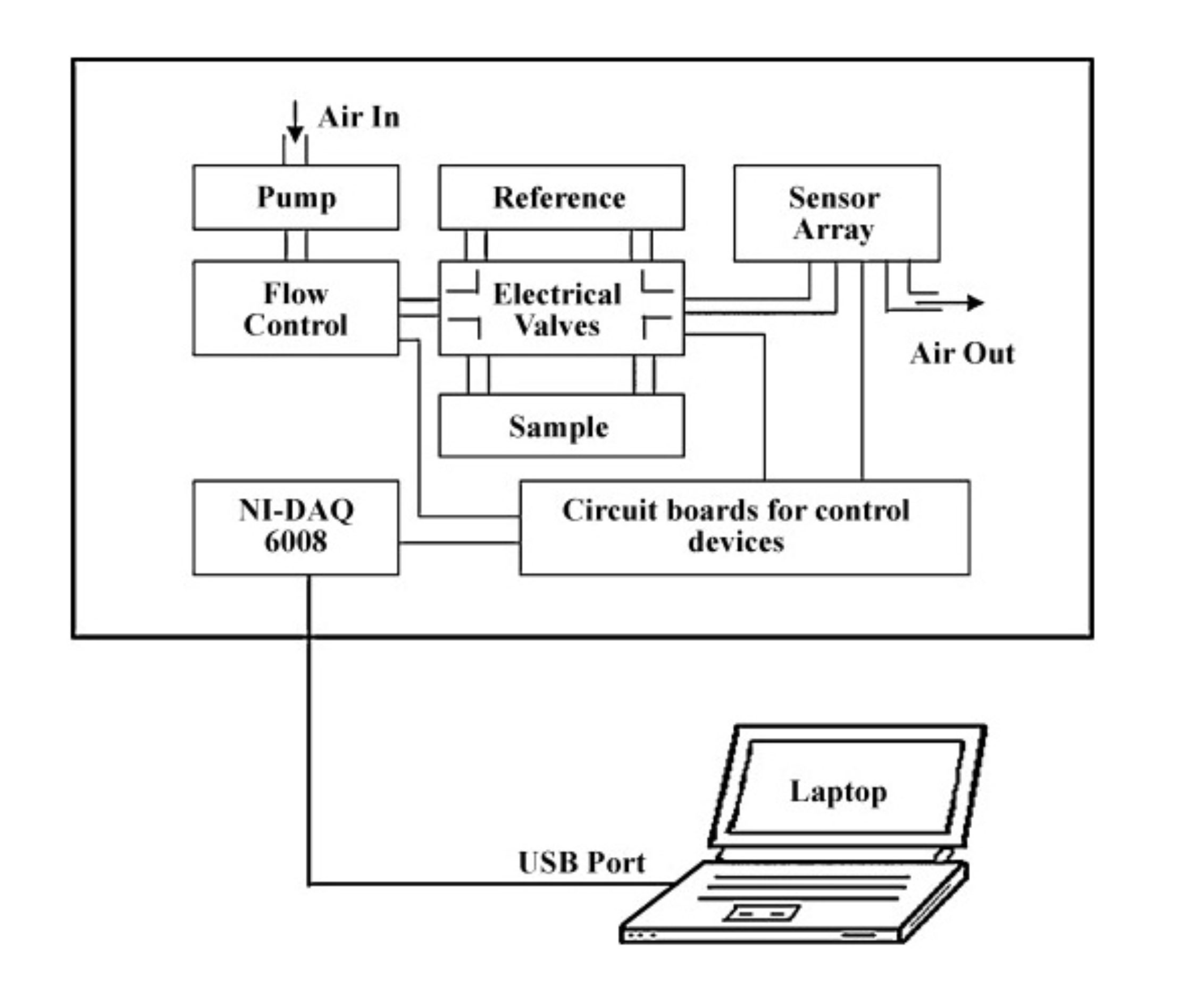 György Horvath, the founder of VOC Diagnostics initiated research on Volatile Organic Compounds (VOC) based on their reported usefulness in cancer diagnosis. Three initial studies were conducted with two specially trained dogs. The studies were published internationally during 2008-2013 and showed the following:
Human ovarian cancer is surrounded by a specific odor (VOC) that is organ-specific
VOCs from ovarian cancer can be distinguished from VOCs that occur around normal ovarian tissue as well as other forms of cancer
These specific VOCs occur in relatively high concentration in the patient's blood
Characteristic VOCs are present in the bloodstreams of patients with semi-malignant so-called borderline tumors, as well as early stages of invasive cancer
VOC based diagnostics are superior to other methods used in healthcare
Further studies showed that eleven specific VOCs were found to be associated and characteristic to ovarian cancer. The prototype instrument's algorithm was trained on a large number of cancer and control samples. In 2015 a new study was launched including 165 samples, where 97 of them were ovarian cancer samples and 68 were controls from healthy individuals. Based on the promising findings a first prototype of an electric nose was built. The idea was to develop an instrument that could diagnose cancer through the detection of VOCs. In 2022, the performance of the instrument was further improved through technical enhancement.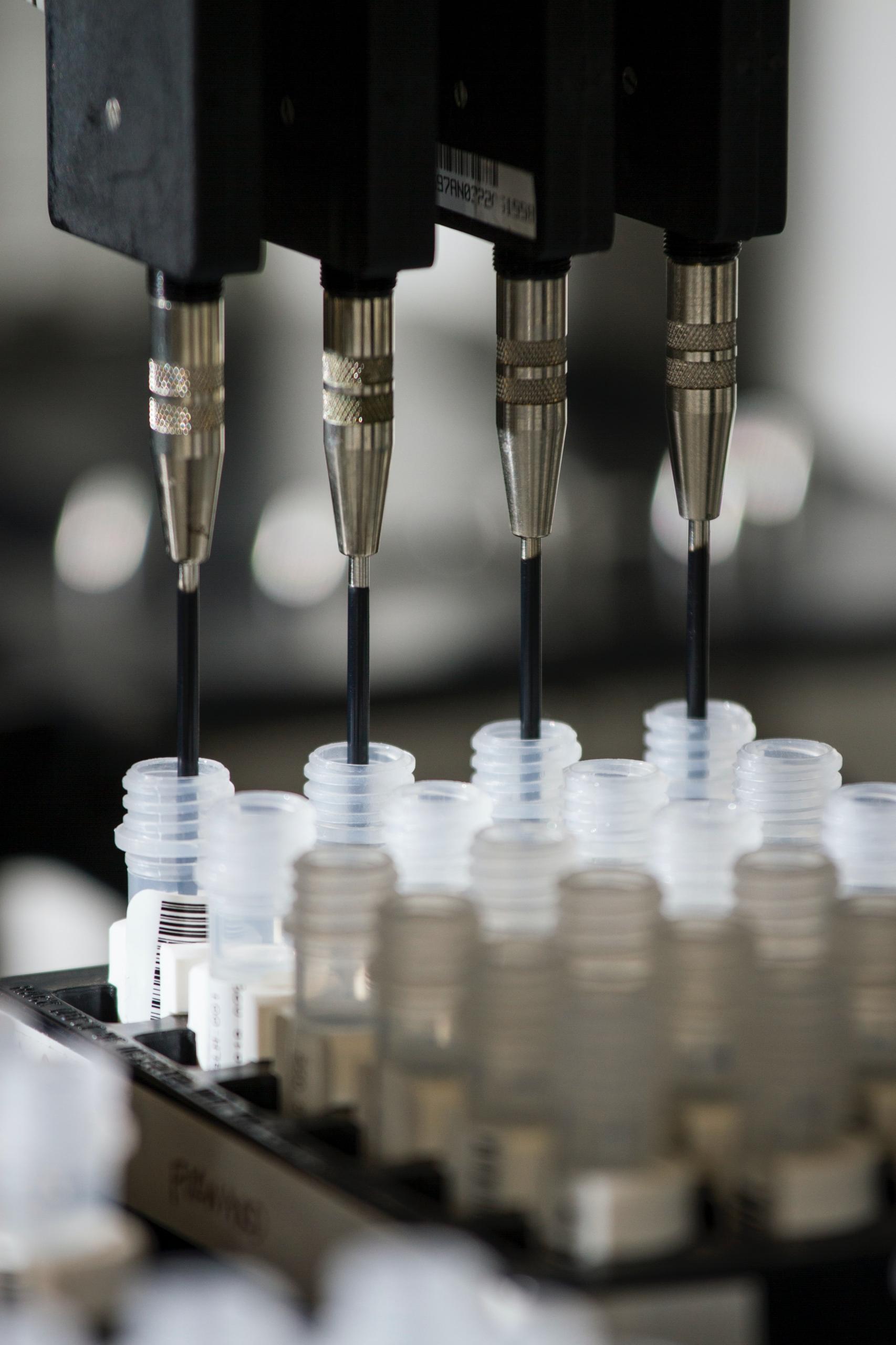 Publications
We value research and evaluate performance of our innovative technology through clinical trials.
Dec 2018
J Cancer Sci Ther
Horvath G, Ranstam J, Ottoson M, Nilsen M
New construction of an electronic nose detects volatile organic compounds from blood, useful for the diagnosis and screening of ovarian carcinoma
Aug 2013
BMC Cancer
Horvath G, Andersson H, Nemes Sz
Cancer odor in the blood of ovarian cancer patients: a retrospective study of detection by dogs during treatment, 3 and 6 months afterward
Nov 2010
BMC Cancer
Horvath G, Andersson H, Poulsson G
Characteristic odour in the blood reveals ovarian carcinoma
May 2008
Integr Cancer Ther
Horvath G, Järverud GK, Järverud S, Horváth I
Human ovarian carcinomas detected by specific odor